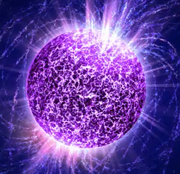 Zythurvia is the eighth level in
The Cosmic Crystals IV: Zythurvia
. It was a purple sun-like star that was so massive, it blew up in a supernova. It is the home of
Zythurvion
. As revealed after everyone leaves
Watruin
, Zythurvia was so massive, it became a black hole. There is a funnel in a lava world in a fireplace that can merge the
Zyther Crystals
into the
Zythurvity Crystal
.
It is mainly a retextured and flipped version of Rainbow Ride, Bowser in the Fire Sea, and Bowser in the Sky. The boss is Zythurvion, the final boss of the movie. 
Gallery
Trivia
Zythurvia's name derives from Zathura.
Ad blocker interference detected!
Wikia is a free-to-use site that makes money from advertising. We have a modified experience for viewers using ad blockers

Wikia is not accessible if you've made further modifications. Remove the custom ad blocker rule(s) and the page will load as expected.