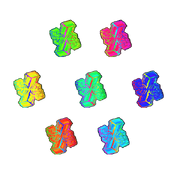 Zyther Crystals are the main objects found in
The Cosmic Crystals IV: Zythurvia
.
Mario
and friends go across 7 planets on the road to Zythurvia and find one on each planet. To do so, they must first find the
Crystal Comet Medal
from that planet, then a Crystal Comet passes by, and when someone beats that comet challenge, the Zyther Crystal appears. Together these 7 crystals make up the Zythurvity Crystal, which is used to restore the
Star World
to it's orginal state.
The Zythers Crystals is used against Zythurvion and his X counterpart to reduce their size to the normal size to mario finally defeat them both.
The Zyther Crystals are found on 7 planets within the Star World:
Gallery