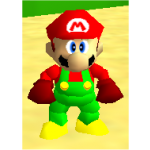 Mariofan14 is a YouTube Ranger who joined YTR in 2012. He was absent during most of 2013, but returned in 2014. He made lots of friends in YTR. Most of YTR calls him by his real name, Zaid, similar ot how YTR calls
Royalomg
by his first name, Branden. Zaid's known to give ideas to some YTR.
Zaid left YTR in 2014.
His latest appearance in MM54321's videos is Back to the Fourth Dimension Part Three.
Counterparts:
4D: Quariofan14 (Part of the Fourth Dimensional Rangers)
Star World: Stariofan14 (Part of the Star World Rangers)
Doppleganger: NafOiram41 (Part of Blooper Stoppers)
Friends
Ad blocker interference detected!
Wikia is a free-to-use site that makes money from advertising. We have a modified experience for viewers using ad blockers

Wikia is not accessible if you've made further modifications. Remove the custom ad blocker rule(s) and the page will load as expected.