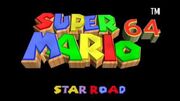 Super Mario Star Road
, a.k.a. the
third dimension
, is a hack of Super Mario 64 created and inhabited by
Skelux
.
Mario
visited it a few times before
Into the Fourth Dimension
and during the movie. It seems to be highly based on
Super Mario World
and Super Mario RPG: The Legend of the Seven Stars, both for the Super Nintendo Entertainment System(SNES). It is based on Sm64.
The Fourth Dimension is a texture pack for Star Road.
There are some new versions: A DS port which is an edit of Super Mario 64 DS, a Deluxe version, a extended version, and a sequel.
Ad blocker interference detected!
Wikia is a free-to-use site that makes money from advertising. We have a modified experience for viewers using ad blockers

Wikia is not accessible if you've made further modifications. Remove the custom ad blocker rule(s) and the page will load as expected.