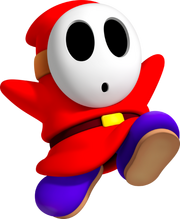 Shy Guys are creatures that wear masks and colored clothing (most common red) that can be either cowardly or offensive when provoked. They come in many variations, from red to green or from Fly Guy to Bandits. They appear in many places. One such example are the fly guys that defended the Crystal Spire.
Ad blocker interference detected!
Wikia is a free-to-use site that makes money from advertising. We have a modified experience for viewers using ad blockers

Wikia is not accessible if you've made further modifications. Remove the custom ad blocker rule(s) and the page will load as expected.