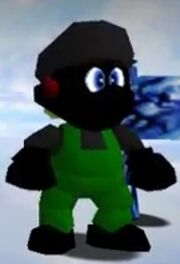 Mr. 2222 is the brainwashed form of MarioGame2222 and only appeared in MarioGame2222's Merry Christmas Parts 5 and 6, as a partner to Mr. B. In the end, MarioMario761 and FightingMario54321 "beat the darkness out of them". Mr. 2222 also appeared in The Story of Starnux by MarioGame2222. In TSOS Part 6, Mr. 2222 appeared alongside Mr. MM, who is the brainwashed form of MarioMario753. MarioMario54321 and Starman3 defeated them at the beginning of TSOS Part 7. 
Ad blocker interference detected!
Wikia is a free-to-use site that makes money from advertising. We have a modified experience for viewers using ad blockers

Wikia is not accessible if you've made further modifications. Remove the custom ad blocker rule(s) and the page will load as expected.