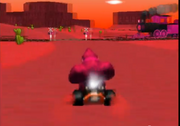 Monkey Dong is the fourth dimension counterpart of Donkey Kong. He first appeared in Back to the Fourth Dimension Part 1, where he was shown getting hit by a train, then gets insulted by Ranbio and Colorigi. This also shows Donkey Kong being hit by the train back in the Mushroom Kingdom. It's possible that Monkey Dong may make more appearances in Back to the Fourth Dimension.
Ad blocker interference detected!
Wikia is a free-to-use site that makes money from advertising. We have a modified experience for viewers using ad blockers

Wikia is not accessible if you've made further modifications. Remove the custom ad blocker rule(s) and the page will load as expected.