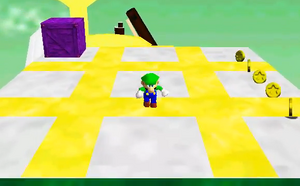 Meloetta's Musical Mess was an area in The Fourth Dimension. It has many giant instruments levitating in mid-air. It has a several enemies, and has a collection of stars. It is the home to 4D Meloetta and the Naughty Notes. Mario and his friends stopped the Naughty Notes from turning it into a bad state.
D-Stars
Use Flute cannon to enter Tuba Slide: Collected by legowoo101
Inside a spinning tambouringe: Collected by hermeslao
Staff River Jumping: Collected by HylianTimeTraveler
100 coins: Collected by TristanBomber
8 red coins: Collected by MrMmarioLuigi
Wing Cap D-Star: Attempted by terminario8000, but had to wait until Wing Cap Switch was pressed
Ad blocker interference detected!
Wikia is a free-to-use site that makes money from advertising. We have a modified experience for viewers using ad blockers

Wikia is not accessible if you've made further modifications. Remove the custom ad blocker rule(s) and the page will load as expected.