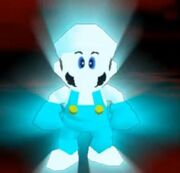 MarioMario54321 X is a super form of MM54321. So far he only appeared in "OiramOiram12345 and the Dark Star X" and made a cameo in a SuperMarioGlitchy4 blooper "The Blooper Competition" for a split second, but this was a copy and paste.
It is unknown if he will appear in another video, though he may return in one of
LuigiLuigi573
's videos.
He is the exact opposite of OiramOiram12345's super form, OiramOiram12345 X, and he is an extremely powerful form of MarioMario54321. He can only become this form when he absorbs the power of the Light Star X. With this power, he can match the power of the Light Star X. He used his power to stabilize The Dark Star X, resulting in the disappearance of all Dopplegangers.