This article is about MarioMario54321 before he died as Mario64 and reincarnated as MarioMario54321 by username.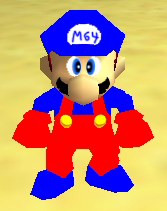 Mario64 was MarioMario54321 when he was at Lemmy's Land. After he was banned, he "died" and was reborn and joined Youtube as MarioMario54321.
For more details, go to one of MM54321's videos called "MarioMario54321's grudge against Lemmy Koopa".
Trivia
Mario64 bears a notable resemblance to Oiram due to the fact that MarioMario54321 made himself that way back at Lemmy's Land when he was known as Mario64. A notable difference is that he is wearing red gloves and blue shoes.
His body skin was like a human being when he was M64, but his skin color turned yellow after he revived.