Mario

Species:

Human

Allies:

MarioMario54321, Luigi, Star world counterparts and the 4D counterparts

Enemies:

Bowser's minions, Dimentio's minions, Zythurvion, Novuscurous, and the Dopplegangers

First appearance (games):

Donkey Kong (1981)
Mario is the main character in
MarioMario54321's
and many other's
Bloopers
and is the main character of the Mario series.
Mario is usually a main character that is usually focused on in MarioMario54321's videos.
Personality: In MarioMario54321's videos, Mario can be VERY crazy when he's mad, which usually never happens in the games. He cares about Luigi and MarioMario54321. (This kind of thing actually stems from MarioMario54321's feelings about some things, since MarioMario54321 makes the videos.)
Apperences: Every Blooper, Super Mario series.
Likes: Luigi, Princess Peach, Yoshi, Toad, Toadette, MarioMario54321 and his fans, Mushrooms, Fire Flowers, Stars and Spaghetti!
Dislikes: CandyCao7, Oiram, Igiul, OiramOiram12345, Dimentio, Fawful, and the Dark Star X.
External Links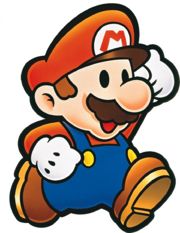 Ad blocker interference detected!
Wikia is a free-to-use site that makes money from advertising. We have a modified experience for viewers using ad blockers

Wikia is not accessible if you've made further modifications. Remove the custom ad blocker rule(s) and the page will load as expected.