Luigi

Species

Human

Allies

Mario, Princess Daisy, MarioMario54321, anyone affilated with the Mushroom Kingdom

Enemies

Dimentio, Fawful, Mr. L, Doppelgangers (Especially Igiul), anyone affiliated with the Koopa Kingdom, The Dark Star X, CandyCao7, Bowser, Waluigi,Dowser,Dowser Jr.

First Appearance

Mario Bros.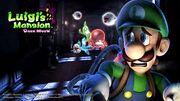 Luigi is the typical underdog and younger brother of Mario, even if he's taller than him. Even though they look similar, Luigi is slimmer, taller, faster, can jump higher, and younger.   
Alternate Forms: All Luigi Power-ups from the Mario Series, Mr. L, Hyper Luigi        
Counterparts: Igiul (Dopple), Fourigi (Fourth Dimension), Starigi (Star World), and Fifuigi (Crown Dimension).          
Trivia
Luigi is known as "Ruīji" (ruːiːdʒiː or ルイジ)  in Japan.                 
Ad blocker interference detected!
Wikia is a free-to-use site that makes money from advertising. We have a modified experience for viewers using ad blockers

Wikia is not accessible if you've made further modifications. Remove the custom ad blocker rule(s) and the page will load as expected.