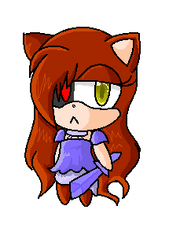 This unknown warrior appeared in
OiramOiram12345 and the Dark Star X
, where she defeated
Dark Lily
and her sword took some of her dark energy (that may be the reason she has the eye of a doppleganger) then left. After
Mario
defeated
Dark Bowser X
, she almost revealed her name when she was punched by
Lily
and the movie continued. She looks like she has the eye of a doppleganger after part 15 and the rest is normal.
Lilyncookies finally revealed her name to everyone on June 16th 2012.
Ad blocker interference detected!
Wikia is a free-to-use site that makes money from advertising. We have a modified experience for viewers using ad blockers

Wikia is not accessible if you've made further modifications. Remove the custom ad blocker rule(s) and the page will load as expected.