The Chain Chomp is a very aggressive metal-based creature with powerful jaws that can hurt even the powerful body of a hero. It can be avoided, otherwise can be made free without their chain. It exists in the Fourth Dimension, and it is quite rare, even if it appears in the first level MM and friends explored,
Bob-omb Island
.
Bob-omberman
owns one and keeps it in
his factory
.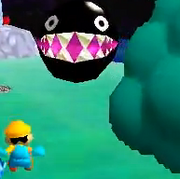 Ad blocker interference detected!
Wikia is a free-to-use site that makes money from advertising. We have a modified experience for viewers using ad blockers

Wikia is not accessible if you've made further modifications. Remove the custom ad blocker rule(s) and the page will load as expected.