Blood Moon Mansion
Texture Pack Made By MarioMario54321
Requested By Starman3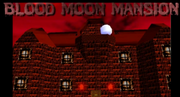 The Home of the Troll Boo!
it has been introduced in MarioMario54321's 2012 Halloween Special (Black & White Version) And Starman3's SuperStar Halloween Special.

But Firstly It is Introduced Firstly in Starman3's Halloween Special
And Pascow Mario And His Friend Played Hide & Scare (Which is a prank game)
Later on, MarioMario54321 Released a video.
The Prank Game Has Stopped.
The Plot is Luigi Has to Save Mario From Troll Boo But...
In Black Version, He encounter'd Screamers
In White Version, There are No Screamer.
And Yes, Like Pascow Mario Said, "Beware of Troll Boo In Blood Moon Mansion"
Ad blocker interference detected!
Wikia is a free-to-use site that makes money from advertising. We have a modified experience for viewers using ad blockers

Wikia is not accessible if you've made further modifications. Remove the custom ad blocker rule(s) and the page will load as expected.