"You have beaten the Star Climb Challenge!"
-Balgar
Balgar is the Lanu Spirit that resides in the Star Orb and corrupted Enzo in The Moon World: Part 6 - The Least Evil Spirit. Captain64000 fought him and won. He appears in Part 9 in his true form.
He will appear in
Kiddy Stoppers: The Movie
 and is going to corrupt a Kiddy Stopper, but will lose to
KirbyRider1337
. His orb is on the
Star Climb
.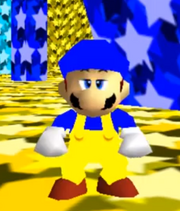 Ad blocker interference detected!
Wikia is a free-to-use site that makes money from advertising. We have a modified experience for viewers using ad blockers

Wikia is not accessible if you've made further modifications. Remove the custom ad blocker rule(s) and the page will load as expected.