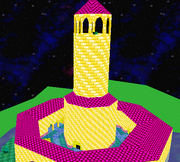 The 4D Tower is a major structure in the Fourth Dimension in 
Into the Fourth Dimension.
After
Mario
beat the huge
Shark Plants
 in his 
Dowser's Dimensional Swamp
, he unlocked the tower and explores it, and then suddenly gets kidnapped by
Dowser
, who was doing it under
Dimentio
's orders in order to create
Mr. M
. There is a watchtower on top of 4D Tower that can only be accessed by a pipe somewhere else in the Fourth Dimension.