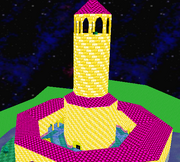 The 4D Tower is a major structure in the Fourth Dimension in
Into the Fourth Dimension.
After
Mario
beat the huge
Shark Plants
 in his 
Dowser's Dimensional Swamp
, he unlocked the tower and explores it, and then suddenly gets kidnapped by
Dowser
, who was doing it under
Dimentio
's orders in order to create
Mr. M
. There is a watchtower on top of 4D Tower that can only be accessed by a pipe somewhere else in the Fourth Dimension.       
Ad blocker interference detected!
Wikia is a free-to-use site that makes money from advertising. We have a modified experience for viewers using ad blockers

Wikia is not accessible if you've made further modifications. Remove the custom ad blocker rule(s) and the page will load as expected.